The two species discussed in this reading which cause the most damage to property in Hawaii, thus are of most economic importance are the Formosan subterranean termite and the West Indian drywood termite. They will be our primary focus of attention. FREE ebook: Hawaii Home Owners Guide to Termites.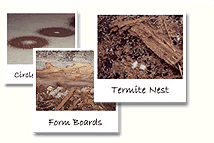 I opened my own general pest control business in 1984 and since 1989 I have operated a business devoted to inspections of buildings for termites and consulting on projects where termites have been a particular problem.


When residential property in Hawaii and most of the U.S. is sold it is customary to have a TERMITE INSPECTION REPORT done. It is not required by law but most lending institutions want to know about the property they are lending on as do the buyers of the property. In Hawaii the law is HRS 460-J section 19. The results of the inspection must be reported on a form developed and approved by the State referred to as a PC-9.
For Drywood Termites, the most effective method of control is tent fumigation.
For Ground Termites, Sentricon, Termidor and Premise are used as control methods.
Check this page to find Jamie's answers to some of the more frequently asked questions about termite inspection.